Kids Martial Arts Classes
Enjoy Age Specific Kids Martial Arts Classes At Team Mongoose BJJ
Help your child have fun staying active with our exciting Kids Martial Arts Classes at Team Mongoose BJJ in Lawrenceville. We are proud to offer your child age-specific classes that will keep them challenged and motivated like never before. 
And in all of our Kids Martial Arts Classes, your child will have the chance to meet in a great group of new friends and develop important life skills that will serve them for years to come. 
Our Kids Martial Arts Classes Are Great For All Experience Levels
We offer a wide range of Kids Martial Arts Classes in Lawrenceville so that students of all ages and abilities can feel comfortable jumping in at any time and have a blast learning these new skills.
Our Kids Martial Arts Classes at Team Mongoose BJJ include:
Little Pups Jiu-Jitsu (Ages 5-7): Using the Jiu-Jitsu discipline, we teach our Little Pups important character traits like respect, teamwork, and confidence, while also introducing them to physical skills and communication strategies. 
Big Kids Jiu-Jitsu (Ages 8-15): Our Big Kids learn the fundamental skills of Jiu-Jitsu while also learning the importance of a physically active lifestyle. These students also develop a true sense of self-confidence through constant accomplishment and praise. We also discuss challenging topics like bully prevention and the importance of academic dedication.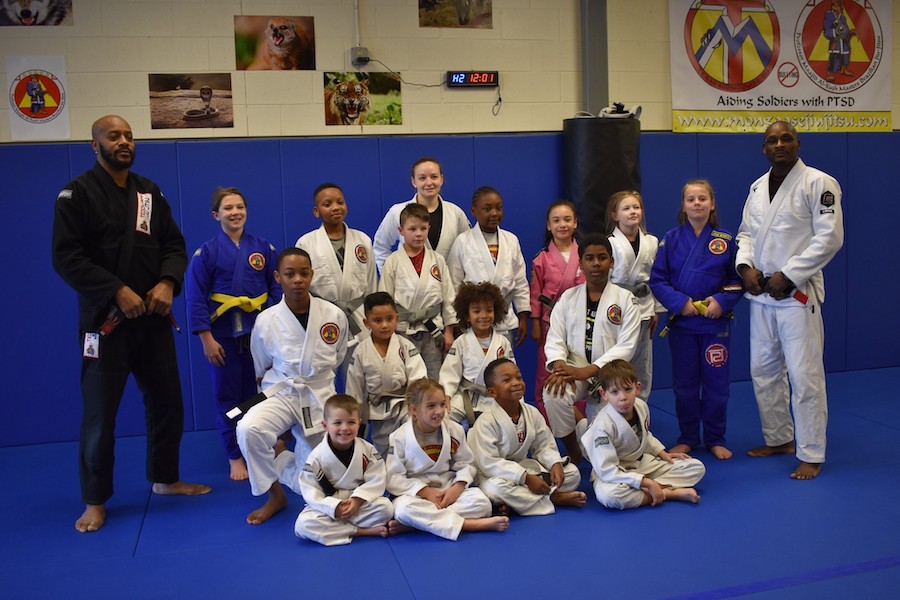 Kids Martial Arts Training Can Help In All Aspects Of Life
Your child won't just leave the skills they learn at Team Mongoose BJJ at the door when they go home. They carry these skills with them into the classroom, and at home, and even into adulthood.
That's why we take pride in exposing your children to positive role models and classes that are both fun and educational.
With our Kids Martial Arts Classes, your child can build:
Leadership and teamwork skills
An improved memory and streamlined learning process
Boosted self-confidence and the ability to face any challenge 
Physical tools like coordination, agility, and dexterity
Get Your Child Started Today With The Best Kids Martial Arts Classes In Lawrenceville
Don't miss out on this incredible opportunity. Our Kids Martial Arts Classes at Team Mongoose BJJ are helping boys and girls of all ages grow to become confident, successful adults. Get started today and see why Lawrenceville is raving about our Kids Martial Arts Classes.
All you have to do is fill out the short form on your screen now. We'll be happy to answer all of your questions right away.